The dataset provided will be composed of both real and Deepfake images of human faces. The Deepfake images will be generated by means of several GAN architectures based on well-known deepfake manipulations such as: face transfer, face swap and style transfer. The training set will be composed of images and organized into several ZIP files having as structure "LABEL-GANname.ZIP" (e.g., "0-CELEBA.ZIP", "1-StarGAN.ZIP"), where LABEL is the Ground Truth (value equal to 0 if the dataset contains real images; value equal to 1 if the dataset contains deepfake images).
Participants will organize these datasets as they see fit (split them into training and validation, define the split percentage, etc.) and can perform any augmentation operation as long as they use only the dataset provided for the competition.
The test set, released in the last part of the competition (see the Important Dates section), will be a TEST.ZIP file composed by several real and Deepfake images similar to those of the training set, and in addition, images obtained by applying some processing (rotation, mirroring, gaussian-filtering, scaling, cropping and re-compression) will be introduced.
For this task, the winning team will be selected with respect to the highest classification accuracy value obtained on the Real vs. Deepfake binary classification task computed with participants' solutions on a further set of data not available until the end of the challenge submission period.
NOTE THAT: only the solutions that will be submitted not later than the defined deadline will be considered. All solutions submitted after the deadline will not be considered.

Figure 1 summarizes the objective of Task 1.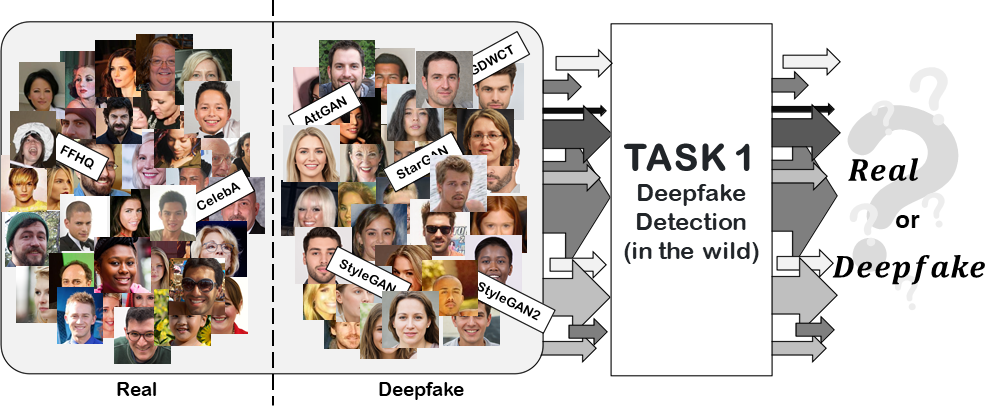 Figure 1: Deepfake Detection task.